OUT OF THE DARK II

May 23 – Aug 15, 2020
Opening Saturday and Sunday, May 23/24, 11am–18pm.

Works of art that no one sees are tragic creatures. Locked away, languishing in obscurity, pictures, sculptures, and videos can't meditate on what they mean, can't quietly grow and mature—indeed, they can't even despair. They have life only in the eyes of people, and so any barriers to access, any social distancing implies their immediate and impotent demise. Yet art, we know, dies hard; it only takes a nap when darkness falls around it. And every first and fresh new glance brings it back in the full splendor of its form.
Eröffnung Samstag und Sonntag, 23. und 24 Mai, je 11 bis 18 Uhr

Kunstwerke, die niemand sieht, sind tragische Geschöpfe. Weggesperrt in ihr Unausgestelltsein können Bilder, Skulpturen und Videos nicht über ihren Sinn reflektieren, nicht in Stille wachsen und reifen, ja sie können nicht einmal verzweifeln. Da sie ausschließlich in den Blicken von Menschen leben, bedeutet für sie jeder Lockdown des Zugangs, jede soziale Distanz, das sofortige, ohnmächtige Ende. Doch bekanntlich stirbt sie nicht so leicht, die Kunst, sondern schläft nur ein bisschen, wenn es um sie dunkel wird. Und jeder erste, frische neue Blick bringt sie in das volle Ornat ihrer Gestalt zurück.
That is why, in 2016, we retrieved works from our storage rooms that had not seen the light of day quite some time and reanimated them in the eyes of our visitors. The show was titled Out of the Dark. Now, as a monthslong lockdown on the entire art world comes to an end, we give ourselves the gift of another exhibition starring some of our old flames, as well as several new productions completed over the past few weeks that we want to see. Because they offer us reflections on this questionable time in which we live. We throw open crates and basement doors, fire up hard drives and screens, to show and celebrate what we have in art. After what we've been through these past months, as Covid-19 brought social life to a virtual standstill, we asked thirteen artists to contribute to a reunion with art in Out of the Dark II. You're cordially invited. KOW is open.
Glimpses into studios and archives reveal how much of our lives, as individuals and as a community, is stored up in the things that artists bring to light. They also reveal how profoundly our perspective on these things changes depending on who we are at the moment. And no wonder. Seeing a picture of people today, we reflexively worry whether they're maintaining the obligatory 6 feet of distance. Bustling airports in a film? Baffling. Workers in a factory—is that a critique of capitalism, or does it make us yearn for the old normal? Every gaze has its time and its contemporary relevance. And it's interesting to see which art holds up under these constantly shifting gazes because it has something new to say when circumstances change, and which art perhaps does not.
We've tried to put together an exhibition that brings home how we look when nothing is going back to normal anytime soon. When we can't readily put the checkmarks of peremptory interpretation behind Object Number One and Object Number Two because we may see things differently today than we did yesterday. An exhibition, that is to say, in which it's at bottom we who're being put to the test: How we see what we see. What we believe. What scares us. What we might do without. What makes us angry. What thrills us and what we want to celebrate. Yes, art is awesome, as these past weeks have made us realize afresh. It's a vital necessity, the political decisionmakers say. Thanks for the compliment. It's an instrument of world-making, we say. It creates and clarifies for us, in our eyes, under our gaze, what is and who we are at this juncture.
2016 holten wir daher Werke aus unserem Lager, die schon länger nicht das Licht der Welt gesehen hatten, reanimierten sie in den Augen des Publikums, und nannten die Schau Out of the Dark. Jetzt, da der ganze Ausstellungsbetrieb einstweilen hinter Schloss und Riegel lag, zeigen wir erneut eine Ausstellung mit alten Lieben, aber auch mit vielen neuen Produktionen, die in den vergangenen Wochen entstanden und die wir sehen möchten. Weil sie uns ein Echo geben auf diese fragwürdige Zeit, in der wir gerade sind. Wir öffnen Kisten und Keller, werfen Festplatten und Monitore an, um zu zeigen und zu feiern, was wir an der Kunst haben. Nach den Erfahrungen der jüngsten Zeit, während Covid-19 das soziale Leben stark einschränkte, haben wir uns für Out of the Dark II von 13 Künstlerinnen und Künstlern ein Wiedersehen mit der Kunst gewünscht. Wir laden Sie herzlich dazu ein. KOW hat auf.
Beim Blick in Ateliers und Archive zeigt sich, wie viel von unserem Leben in den Dingen steckt, die Künstler*innen zu Tage bringen. Und es zeigt sich auch, wie anders wir auf diese Dinge schauen, je nachdem, wer wir gerade sind. Wer heute ein Bild sieht, das Menschen zeigt, sucht nach 1,5 Metern Abstand zwischen ihnen. Belebte Flughäfen in einem Film? Verwirrend. Arbeiter in einer Fabrik – ist das Kapitalismuskritik oder weckt das Sehnsucht nach Normalität? Jeder Blick hat seine Zeit und seine Aktualität. Und es ist interessant, welche Kunst sich diesen stetig wandelnden Blicken immer wieder neu und sinnvoll anbietet, auch in wechselnden Lebenslagen, und welche vielleicht auch nicht.
Wir haben versucht, eine Ausstellung zu machen, die vor Augen führt, wie wir schauen, wenn gerade nicht alles beim Alten bleibt. Wenn wir nicht ohne Weiteres die schnellen Häkchen unserer Interpretationsleistung hinter Objekt Eins und Objekt Zwei setzen können, weil wir womöglich heute anders sehen als gestern. Mithin eine Ausstellung, die wohl vor allem uns überprüft: Wie wir sehen, was wir sehen. Was wir vermeinen. Wovor wir Angst haben. Auf was wir verzichten könnten. Was uns ärgert. Was uns begeistert und was wir feiern wollen. Ja, Kunst ist toll, das wurde uns dieser Tage wieder klar. Sie sei ein Lebensmittel, sagt die Politik. Danke dafür. Sie ist ein Weltinstrument, sagen wir. Sie erschafft und klärt für uns, in unseren Augen, vor unserem Blick, was ist und wer wir augenblicklich sind.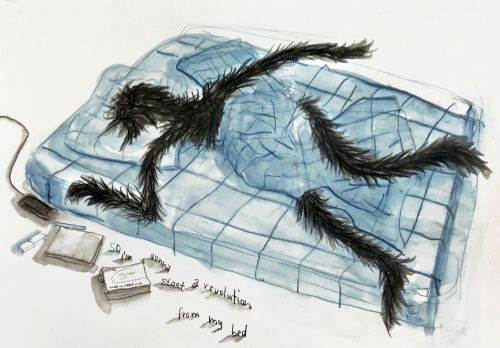 What remains unseen, what's repressed from view and marginalized, what's inconvenient or embarrassing, unsightly/invisible or perhaps faceless: these are often the stuff of art. And so is the unforeseen.
Das Ungesehene, das aus der Sicht Verdrängte und Marginalisierte, das Unangenehme, Unansichtige, vielleicht Gesichtslose, sind ihr häufiges Genre. Das Unvorhersehbare auch.
Turning the spotlight on art, Out of the Dark II should not gloss over the fact that much remains in the shadows of public attention despite, or in fact especially because of, a crisis in which we're focused on our own situation. For a little while, such self-centeredness is understandable, but then we must open our eyes again to challenges, and to visions, that go beyond our personal or even national horizons. As art reclaims its public presence, critical perspectives on what is happening in our world also demand to be heard again. For art is not what's already manifest or loudly announces itself. The mission of cultural production is to serve as a check on the global attention economy, to rebalance the discursive system, to publicly comment on social and political developments, to raise objections, to rethink problems and challenge our thinking, to spur debate.
What remains unseen, what's repressed from view and marginalized, what's inconvenient or embarrassing, unsightly/invisible or perhaps faceless: these are often the stuff of art. And so is the unforeseen. If there's one thing we have in art, it's that it is worldly without ever agreeing with the world. And so, thankfully, jolts us out of our inertia, out of the cozy murk of pure introspection. When we open our eyes to it, it pushes us out into the world. And then it shines a bright new light on us, too.
Out of the Dark II soll bei allem Scheinwerferlicht auf die Kunst nicht verbergen, was alles gleichwohl weiterhin, oder mehr noch als zuvor, derzeit im Dunkeln bleibt. Die Zentrierung des Blicks auf die eigene Situation ist während einer Krise verständlich, aber nur für kurze Zeit zu verantworten; und sie darf die Wahrnehmung von Problemen, auch von Visionen, die weiter reichen als der persönliche oder der nationale Horizont, nicht verschatten. Mit der öffentlichen Präsenz der Kunst meldet sich auch der kritische Blick auf das Weltgeschehen wieder stärker zu Wort. Denn Kunst ist nicht das, was sich ohnehin schon zeigt oder lautstark zu erkennen gibt. Der kulturellen Produktion kommt die Rolle der Checks and Balances in einem globalen Aufmerksamkeits- und Diskurssystem zu, der öffentlichen Kommentierung des sozialen und politischen Geschehens, des Widerspruchs, des Um- und Andersdenkens, der Debatte.
Das Ungesehene, das aus der Sicht Verdrängte und Marginalisierte, das Unangenehme, Unansichtige, vielleicht Gesichtslose, sind ihr häufiges Genre. Das Unvorhersehbare auch. Wenn wir eines an der Kunst haben, dann sicher das: ihre Welthaltigkeit, die sich nicht einfach an die Welt hält. Und es uns daher dankenswerterweise schwer macht, bloß in uns zu verharren, im inneren Dunkel der reinen Selbstwahrnehmung. Sie zwingt uns, wenn wir die Augen für sie öffnen, hinaus. Und dann wieder in uns hinein, aber mit mehr Licht.