Barbara Hammer & Oswald Oberhuber

Sep 17 – Nov 6, 2016
Barbara Hammer and Oswald Oberhuber stand out among the artists of their generation for their pioneering achievements. Born in Hollywood in 1939 and in South Tyrol in 1931, respectively, they each helped write a chapter of art history and, by extension, a chapter in the history of their societies.
Barbara Hammer und Oswald Oberhuber sind zwei Pioniere ihrer Generation. Geboren 1939 in Hollywood und 1931 in Südtirol, haben beide je ein Stück Kunstgeschichte mitgeschrieben und dabei auch ein Stück Gesellschaftsgeschichte.
Both have been dedicated to causes that extend beyond their art; theirs have been powerful voices in the intellectual discourse and the politics of culture for decades. Since the 1960s, both have been regarded by many as paragons of what it means to be an artist: they struggled to break with convention, took public stances, conceived the social in new terms, put themselves on the line in interventions into a culture business that arranges forces, voices, bodies, financial resources, and identities—and advocated the repudiation of these structures or their transformation.
Barbara Hammer's and Oswald Oberhuber's paths never crossed. Hammer has worked from San Francisco and, later, from New York; Oberhuber was first in Innsbruck and now lives in Vienna. To arrange an encounter between these two free spirits, who emerged from very different backgrounds, may be a violation of art-historical propriety, but we can tell a story in which the two know each other. This story would obviously begin with a portrait of the circumstances that prevailed at the time, in the U. S. no less than in Austria: circumstances that were inauspicious for people who did not conform, who spurned the customary and put a great deal at stake in the attempt to devise a subjectivity that would elude containment by the canonical.
Beider Engagement reicht über ihr Werk hinaus und wirkte über mehrere Dekaden hinein in den intellektuellen und kulturpolitischen Diskurs. Beide gelten seit den 1960er Jahren für viele als Beispiel eines künstlerischen Rollenmodells, das sich aus Konventionen herausboxte, öffentlich positionierte, das Soziale anders dachte und dabei das eigene Selbst in den Betrieb hineinstellte, der Mächte, Stimmen, Körper, Finanzen und Identitäten arrangiert – und für das Uneinverständnis mit diesen Verhältnissen eintrat oder für ihre Umgestaltung.
Barbara Hammer und Oswald Oberhuber liefen sich nie über den Weg. Hammer wirkte von San Francisco und später New York, Oberhuber zunächst von Innsbruck und dann von Wien aus. Es mag etwas verwegen sein, diese zwei Freigeister verschiedener Herkunft heuer zusammenzubringen, und doch: Es lässt sich eine Geschichte erzählen, in der beide sich kennen. Diese Geschichte müsste damit beginnen, dass die Umstände in den USA wie in Österreich seinerzeit nicht günstig waren für Leute, die etwas anderes im Sinn hatten als die gegebene Sitten und Gebräuche, und dann viel daran setzten, sich eine Subjektivität einfallen zu lassen, die kanonischer Einhegung entgeht.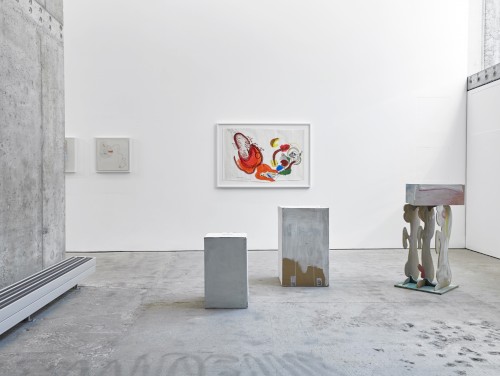 Oswald Oberhuber's oeuvre grows out of the spirit of postwar Art Informel. No longer willing to abide by classical principles of form and composition, artists make a fresh start; Oberhuber, a native of Tyrol, contributes informalist sculptures but soon goes further. In 1956, he proclaims formlessness as the general maxim of his creative practice—and a way of life. Borrowing Trotsky's idea of "permanent revolution", he undertakes a negation of aesthetic and social norms under the banner of incessant change. Founded on welcoming disruptions and transformations, his life's work slyly charts a richly varied course through six decades.
He creates sculptures, paintings, drawings, furniture, posters, performances, concepts for architectures and interiors. Bringing an anarchical spirit to the everyday, his work sometimes borders on anti-art. Oberhuber is also an exhibition organizer and gallery operator, curating over six hundred projects, some of which spark important innovations in Austrian contemporary art. In presenting a selection of mostly sculptural work dating from between 1967 and 2013 no more than a sliver of Oswald Oberhuber's oeuvre—KOW also welcomes an artist who is family: following in their father's footsteps, Nikolaus and Raphael Oberhuber have emerged as gallerists and exhibition makers in their own right.
Oswald Oberhubers Oeuvre entspringt dem Geist der Informellen Kunst der Nachkriegszeit. Die mochte sich nicht länger an klassische Form- und Kompositionsprinzipien halten, Oberhuber trägt mit informellen Skulpturen zu diesem Aufbruch bei. Der Tiroler geht aber bald weiter. 1956 erklärt er Formlosigkeit zur generellen Maxime seiner künstlerischer Praxis – und zu einer Lebenshaltung. Er leiht sich Leo Trotzkis Begriff der "permanenten Revolution" und macht die "permanente Veränderung" zur Losung seiner Negation ästhetischer und sozialer Normen. So öffnet sich das beginnende Lebenswerk für wiederkehrende Sprünge und Wandlungen und bewegt sich mit Chuzpe durch sechs Jahrzehnte.
Plastiken entstehen, Gemälde, Zeichnungen, Möbel, Plakate, Performances, Architektur- und Raumkonzepte. Ihr alltäglich-anarchistischer Esprit steht bisweilen der Anti-Kunst nahe. Zugleich kuratiert Oberhuber als Ausstellungsmacher und Galerist über 600 Projekte, manche davon geben der österreichischen Gegenwartskunst Schlüsselimpulse. Wir zeigen eine Auswahl vor allem skulpturaler Arbeiten von 1967 bis 2013 und damit nur einen Ausschnitt des Wirkens von Oswald Oberhuber, mit dem wir zugleich ein Familienmitglied bei KOW begrüßen. Nikolaus und Raphael Oberhuber knüpfen als Galeristen und Austellungsmacher an die Praxis ihres Vaters an.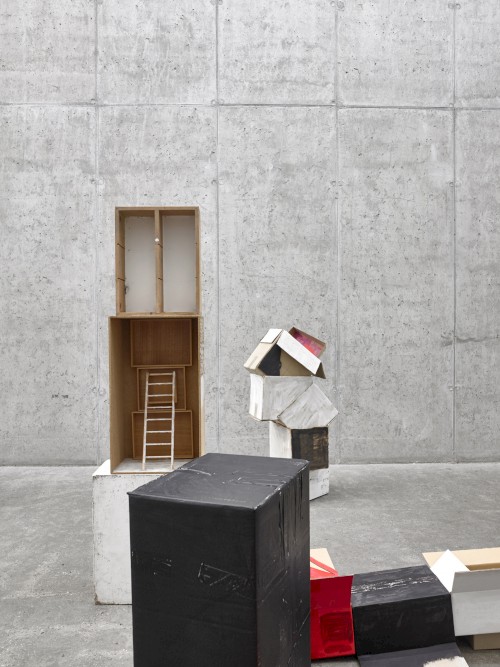 Barbara Hammer's renown is primarily based on her Lesbian-feminist interventions into the male-dominated realms of filmmaking and visual art. We zoom in on the crucial years between 1968 and 1972, when the Californian artist found her own voice, presenting previously unpublished works on paper that illuminate how her approach to visual art informs her use of filmic structures and materials. Three films created between 1984 and 1988 exemplify her later deconstructions of American consumerism, making short work of much that was (and still is) widely regarded as perfectly normal. Hammer explodes conventional public opinion to make room for perspectives that run counter to the usual theatrics of femininity in the domestic sphere, media, and technology.
Text: Alexander Koch / Translation: Gerrit Jackson / Photos: Ladislav Zajac
Barbara Hammers Ruf gründet sich vor allem auf ihre lesbisch-feministischen Interventionen in die Männerdomänen der Film- und Kunstwelt. Wir zeigen den künstlerischen Aufbruch der Kalifornierin zwischen 1968 und 1972 mit unveröffentlichten Arbeiten auf Papier, die Hammers bildnerischen Zugang zu filmischen Strukturen und Materialien erhellen. Daneben stehen beispielhaft drei Filme aus den Jahren 1984 bis 1988 für ihre späteren Dekonstruktionen US-amerikanischer Konsum- und Meinungsgepflogenheiten. Hier bleibt wenig von dem stehen, das vielen (immer noch) normal erscheint. Hammer schaufelt den Blick frei für Gegenperspektiven auf die übliche Veranstaltung von Weiblichkeit in Heim, Medien und Technologie.
Text: Alexander Koch / Fotos: Ladislav Zajac